KECO Variety Pack Ice Interchangable Micro Knockdown Tips (5 Pack)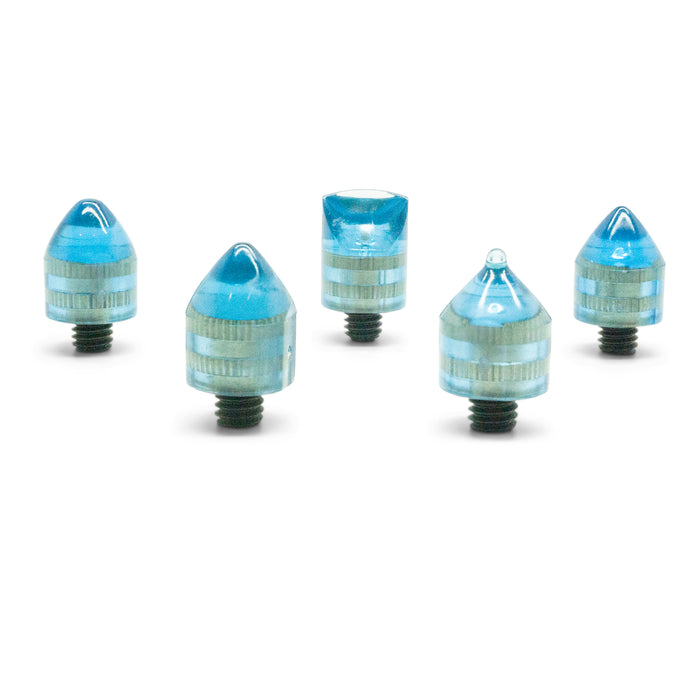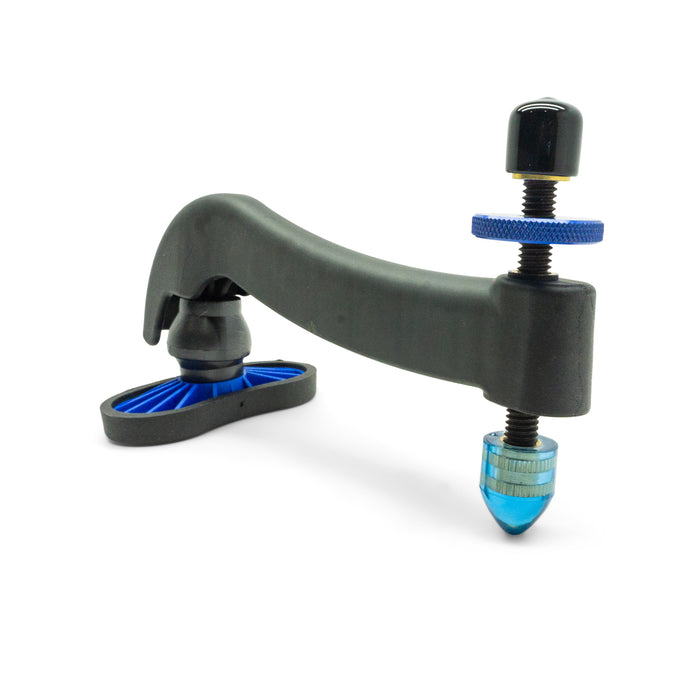 KECO Body Repair Products is the pioneer of glue pull repair (GPR) within the collision repair and paintless dent repair (PDR) industries. Based in Oklahoma City, KECO's team manufactures a broad range of innovative GPR tools, with superior quality, for the most discerning professional technicians.
KECO is focused on creating the best customer experience available, with exceptional service and most products guaranteed for life. KECO is here to help YOU (the technician) do your best repairs with the most comprehensive line of GPR and PDR tools available today.
K-Beam® Bridge Lifter with Adapters
The KECO K-Beam® Bridge Lifter provides the controlled power and leverage to pull large dents from panels doors seams and body lines The sustained pulling pressure allowing tech's a hands-free opportunity to view the dent at various angles then slap and knock down crowns accordingly.
Threaded Lifter with Knob and Hex Nut - hand turn for precise tension or use a power drill for quick adjustments
Locking Sliding Saddle - angles up to 60º and slides 28" allowing pulls on hard to reach places
Sliding 360º Padded Robo Feet - two Robo bodies slide the length of the bridge and pivoting feet provide a stable base on uneven surfaces
Lightweight High-Strength Body - weighs less than 5lbs for easy maneuvering
Includes 4 Adapters - supports all standard size PDR hail and crease tabs KECO Super Tabs Centipedes and Black Plague Crease tabs
Elim A Dent Ver-2 20" 6 Strip 18v James Lee Sig-Series Cool / Warm Center Offset Portable PDR Light - Milwaukee Compatible - Battery & Charger Sold Separately
6 Strip 18v PDR L.E.D. Cordless 20inch Light Board.
(3 warm white - 2 outer and 1 center Offset 3 cool white - 2 outer 1 center Offset)                  
BATTERIES AND CHARGER SOLD SEPARATE
PWM Dimmer Included
             
*WARNING ONLY COMPATIBLE WITH M18 SERIES BATTERIES*
"Patents 9109769 9212793"
This board is powered by Milwaukee 18v lithium ion batteries or off-brand replacements. The board can be rotated and twisted 360 degrees. Comes with 6 L.E.D. strips 1 warm center offset 2 warm outer 1 cool center offset and 2 cool outer. 3 switches on base control strips. 2 Outer switches have single on and Center has a double on. Right Outer switch turns on 2 outer cool white. Left outer switch turns on 2 outer warm white. Center up turns on 1 center offset warm and center down turns on 1 center offset cool. Batteries charge in 15-40 min and last for 3 to 8 +hours depending on how many strips you power and what size battery your using.

New Spinal-Cord Setup

Elim A Dents Patent Pending Spinal Cord setup. These new revolutionary fittings allow you to extend and shorten your cord length without taking the entire assemble apart. Better than that each link has a bolt and nut inside a plastic housing that allows you to set the tension of each link. Ounce Spinal Cord fittings are connected they cannot pop apart without loosening the tension screws. If you prefer that loose broke in feel loosen the screws if you like to keep that tight like new feeling tighten the screws. If you would like to have part of the links loose so you can maneuver and spin the board freely but have another section tight to support the board's weight well you can do that also.


18v powered by Milwaukee lithium-ion batteries or off-brand replacements.
Allows you to use existing Milwaukee chargers and batteries to eliminate carrying multiple different batteries and chargers.
Easy battery release for swapping out dead batteries
Completely cordless no exposed wires.
Versatile 360 degrees of movement with no worries of cord tangles.
Quick disconnects to easily replace wearable parts like the loc line assembly.
Up to 9 18v strips with a variety of warm/cool color combination.
3 independent switches on base so they don't get switched by accident when adjusting board and also allow for various led strip combinations.
Matched acrylic face plate for the perfect fade. Acrylic is secured into place so it won't slide or fall out.
Built in suction cup with replaceable plunger and pad which saves cost on repairs by only needing to purchase parts instead of entire assembly. Now works with Woods and Ram Twist Cups.
Low profile dimmer on base side to control brightness of L.E.D.
Milwaukee® is a registered trademark property of Milwaukee Electric Tool Corporation's which is not affiliated with Elim A Dent LLC.
Centipede® Variety Pack Blue Flexible Crease Glue Tabs (5 Pieces)
The KECO Centipede Crease tabs are a highly versatile glue tab that permits the technician to work large dent in small increments. Techs have the ability to carefully pull stubborn creases withing inflect peaks and valleys created by lines of smaller crease or hail tabs. The articulated design of the Centipede permits flexibility to match gentle contours or adhere to deep dents. Flex style Centipedes can be trimmed to any length.
Available adapters allow Centipedes to be pulled with the KECO K-Bar K-Beam® industry standard slide hammers mini-lifters and even a rope ratchet and chains.
Thick Flexible Base - good for shallow creases with significant body contour
Thin Flexible Base - for very shallow dents with extreme changes in body contour; the most flexible of the Centipede crease tabs
Flexible Spine - bends to follow contours
Smooth Face - allows the glue to adhere for the strongest possible pull and hold
Blue Material - flexible formula allows for a solid pull and vibration absorbing hold
Dead Center® SuperTab® Variety Pack Blue Glue Tabs (10 Tabs)
Dead Center® SuperTabs® combine the heavy-duty pulling strength of SuperTabs® with the focused pulling area of a Dead Center® for unparalleled pulling performance.
The threaded Stafast system provides compatibility with Keco K-Bar® and K-Beam® systems as well as industry-standard slide hammers mini lifters and other pulling methods.
Patented Dead Center Technology - the specialized neck to face ratio provides the best possible rigid center pull with flex along the edges to avoid overpulling
Large Surface Area - Featuring an oversized surface area designed to prevent overpulling
Threaded Stafast System - Provides a solid positive lock between the tab base and interchangeable lifting mechanisms and adapters
Smooth Face - Allows the glue to adhere for the strongest possible pull
Blue Material - Flexible formula allows for a solid pull and vibration absorbing hold
Robo® Precision Mini Dent Lifter
Precision Robo® Minit Dent Lifter prevents over-pulling with a broad base that holds down the metal around precision hail and dent pulls. Built with the KECO Robo® Mini Lifter 360° ball-and-socket technology lightweight body and ergonomic handle.
22.4 mm Opening - allows precision pulling with tabs up to 20 mm in diameter
Broad Base - prevents over-pulling by holding metal down on hail and detail pulls
360 Rotating Base - provides more options for leverage
Ball-and-Socket Technology - makes dents on uneven surfaces easy to reach
Wide knob - allows for easy quick height adjustment
WARNING: This product can expose you to chemicals including Bisphenol A, which is known to the State of California to cause birth defects or other reproductive harm. For more information go to www.P65Warnings.ca.gov.